Wedding season is in full swing and I am one grateful, busy photographer.  I've been dotting the map already this year, meeting and photographing couples around Colorado and the West – always in awe of the ideas and details that clever brides and grooms incorporate into their wedding day.  I love crafty brides.  Especially when a crafty bride is as sweet and classic as Adriene.  Martin is one lucky fella, and he couldn't stop complimenting his bride on all the creativity and elbow grease she put into their wedding day details.  Their story is a bit of a North meets South, with Adriene's Canadian family and Martin's Mississippi kin celebrating their day together. I got a kick out of the variety of accents that bounced off the walls of Denver's Glenmoor Country Club all evening.
Their day began with a lovely ceremony at Bethany Lutheran Church – a beautiful setting, full of natural light and vibrant color.  Adriene seemed to make sure there was a vibrant touch in all of the day's details, creating a playful but elegant scene for the wedding.  She happened to choose one of my favorite Denver florists, Emily Rodriguez of The Ruffly Rose (mosey down to her shop on South Pearl Street in Denver – it's amazing!)
It was definitely a treat to photograph for Adriene and Martin.  Here is a quick selection of my favorites: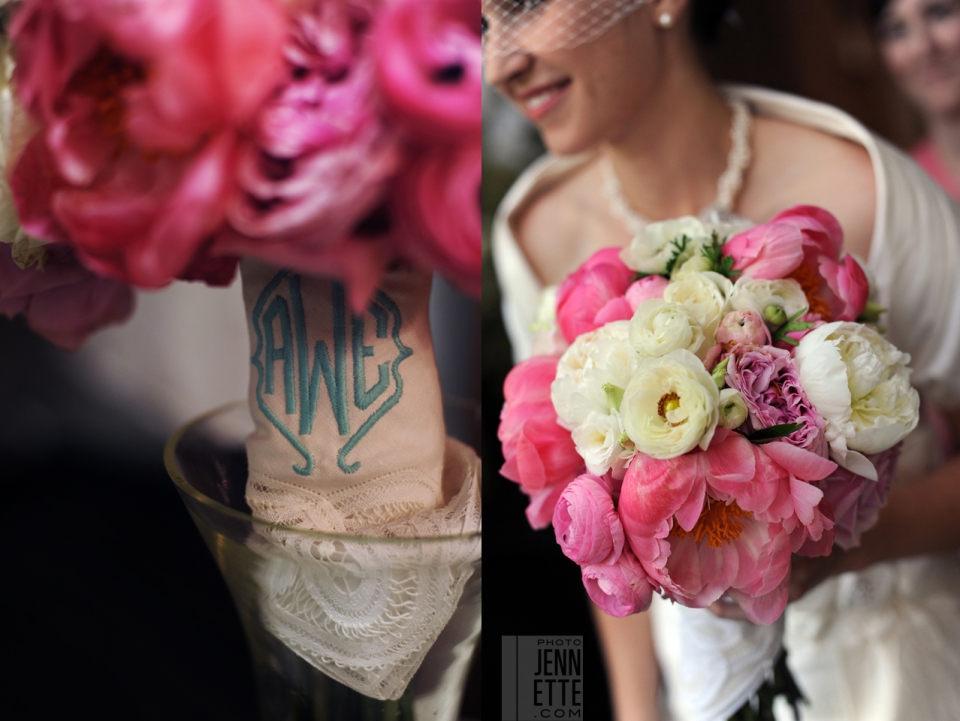 One of my favorite touches Adriene included were these embroidered handkerchiefs she had made for each of her bridesmaids – a sweet memento I had yet to see at a wedding.  The flowers from The Ruffly Rose were beautiful and incredibly fragrant the entire day.  So great to photograph Emily Rodriguez's fabulous work.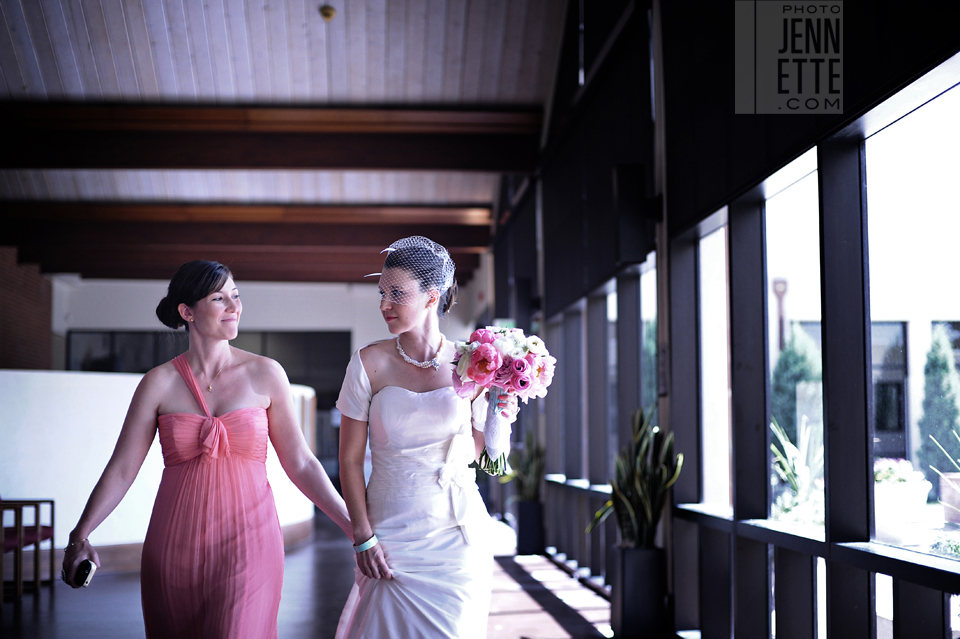 An assuring look from Adriene's sister, Lindsay – on the way to see Martin for the first time that day.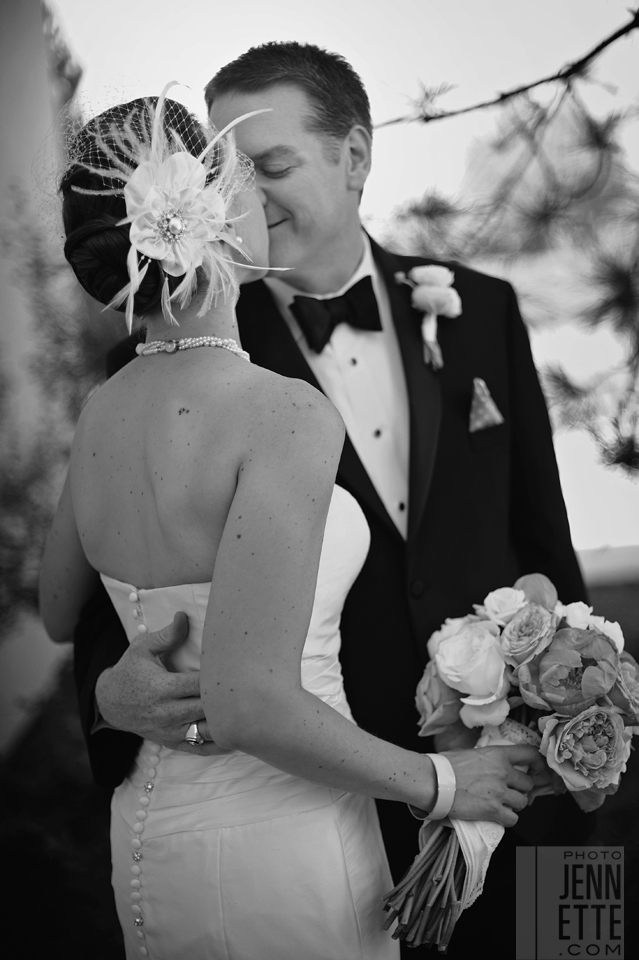 I love the faces of the onlookers in this shot.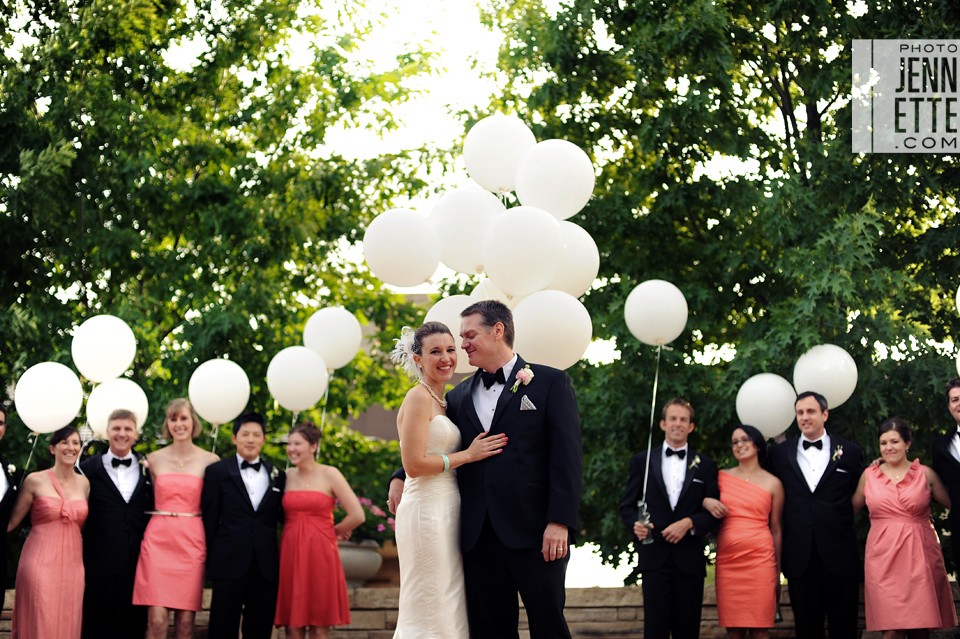 Whenever a wind gust came through, Martin got a bit pummeled by the balloons.  Such a good sport.
I think you can tell a lot about a person by the way they hug.  Sound bizarre?  Stand back and watch the next time you have the opportunity.  These two were very genuine huggers: firm squeezes, closed eyelids – a true connection with each guest that said hello.
Every guest had a freshly-opened coke bottle with their name and table number flagged on the straw, and they were tempted by a lovely candy bar on the way to their seats.  Most of them gave into the colorful treats on the way to dinner.  I did too.  See the bag on the right?  I felt obligated to make one for the photo opportunity – then I shared it with the DJ :)
Glenmoor Country Club wedding photography by photojennette